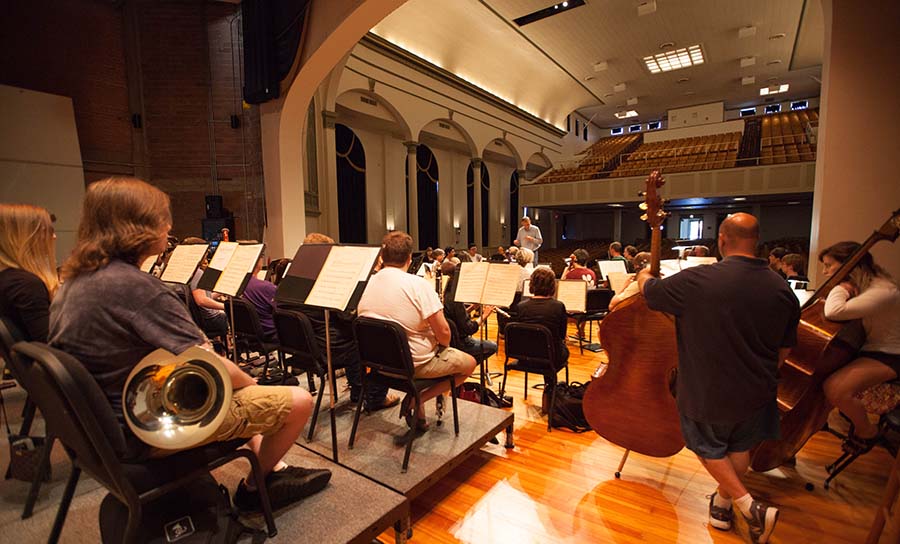 Education is the foundation of our mission
What began as an Austin College student, faculty, and community ensemble has grown into a fine regional orchestra that serves as both a training ground for young musicians and a primary resource for music education in Texoma. Maestro Daniel Dominick has been dedicated to continuing and advancing the symphony's educational programs since 1992. Every year, as many as two dozen young musicians from Austin College, Southeastern Oklahoma State University, Grayson College, and area high schools perform alongside the Symphony's professional players.
---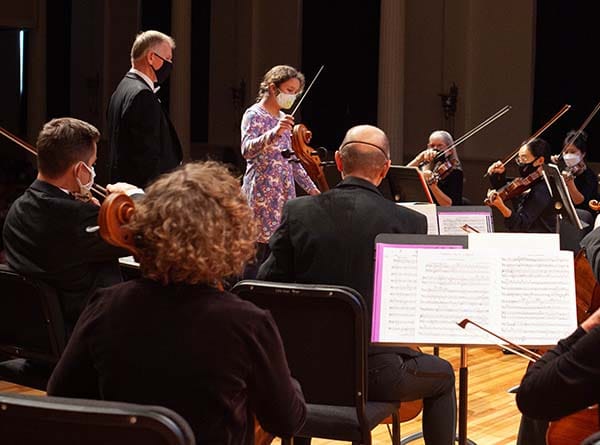 2021 marked the Sherman Symphony's 20th annual Children's Educational Concert! Each November, more than 2,000 fifth graders from Texas and Oklahoma attend this one-hour program free of charge. Developed in conjunction with local music educators, the goal of this program is to engage developing minds in the art of classical music by providing a high-quality live concert experience. The Children's Concert is made possible by financial support from our local businesses. For more information and to find out how to attend, click here or contact us.
---
SSO Scholars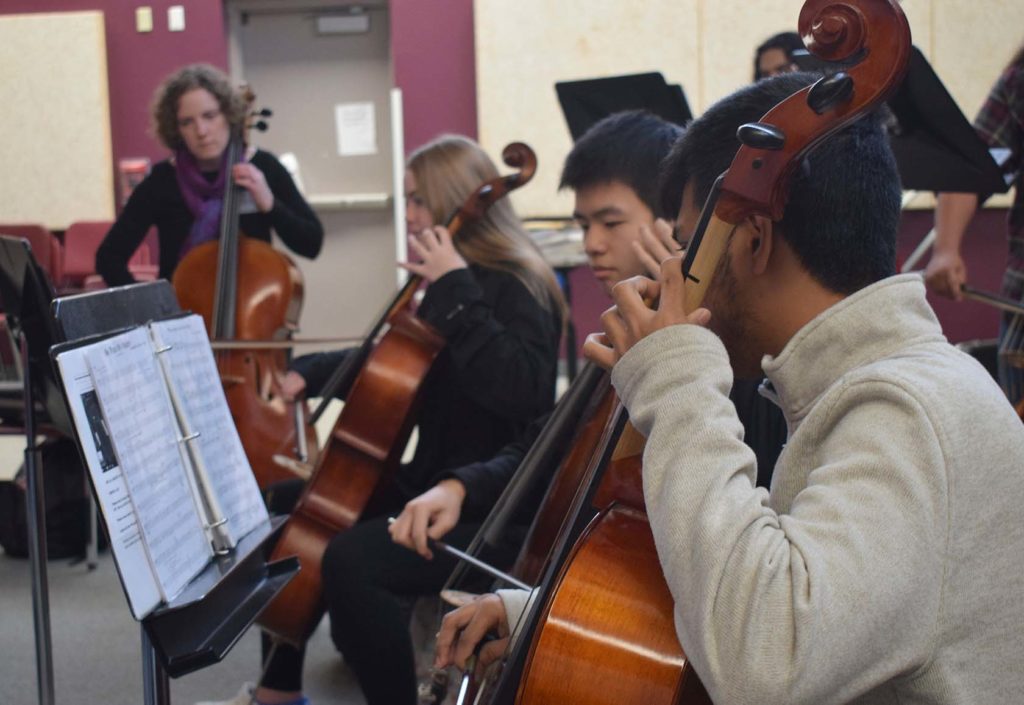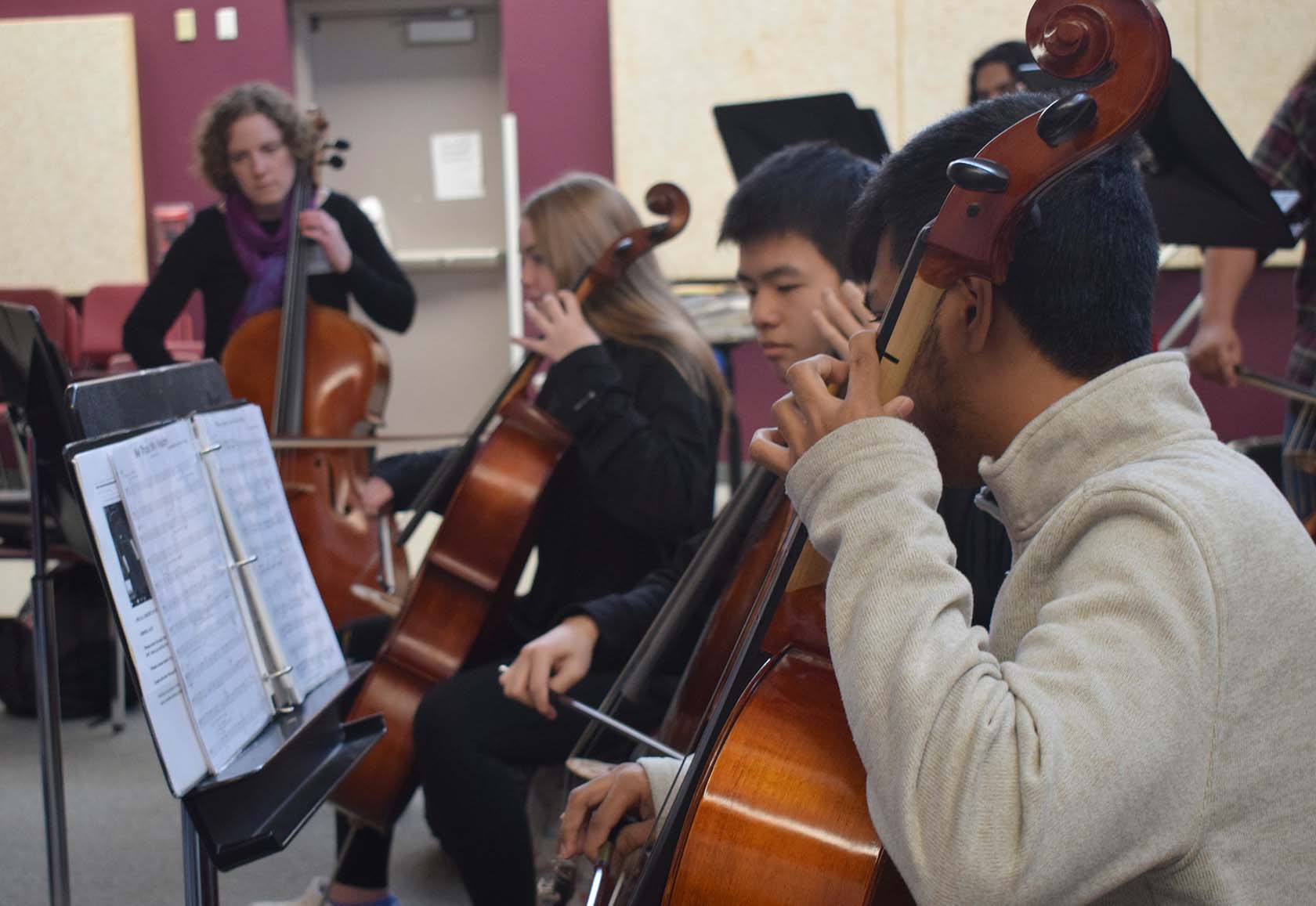 Since 2019, SSO members have provided specialized string instrument instruction to every orchestra student in the Sherman Independent School District at no cost. Professional orchestral musicians teach up to one hundred sectionals – group coaching sessions for each individual instrument – annually to 6th-12th grade orchestra students. These sessions focus on building technique, preparing for competitions, and learning new repertoire. For more information, contact Leslie Whelan, Education Director.
---
Free Student Tickets
The Sherman Symphony gives students of all ages exposure to high-quality live symphonic music by providing free student tickets for every Classical Series Concert. See our current concert schedule to plan your visit, and contact us with questions.
---
In an effort to make concerts available for anyone unable to attend live performances, the Sherman Symphony has partnered with Sherman High School communications students and local station CBS-12 KXII to record and provide monthly broadcasts of its classical concerts. This hands-on recording experience is a unique and valuable component of the students' education, and the collaboration enables the SSO to reach the largest possible local audience. These recordings will also be available on our YouTube channel.
---
New Programs:
Musical Chairs
Musical Chairs is a new program that will bring live chamber music performances to elementary school students. During its pilot year, SSO musicians will visit one school in Sherman and one school in Denison to give a performance and presentation. Using educator feedback, the SSO plans to adapt and expand this program to reach more schools in 2022. Through Musical Chairs, the SSO intends to offer a convenient, personal, and close-up look at instruments and the musicians who play them. For more information, contact Leslie Whelan, Education Director.
Practice Partners
Practice Partners is an after-school program that enables middle school orchestra students to learn from their more experienced peers. Volunteer high school and college string players visit Sherman Middle School and Piner Middle School once per month to work with students one-on-one and in small groups. It is the first program we have developed that specifically empowers advanced string students to serve as leaders for their younger peers. Practice Partners aims to foster good leadership and good followership, and to build an orchestra community that will continue providing positive support from within.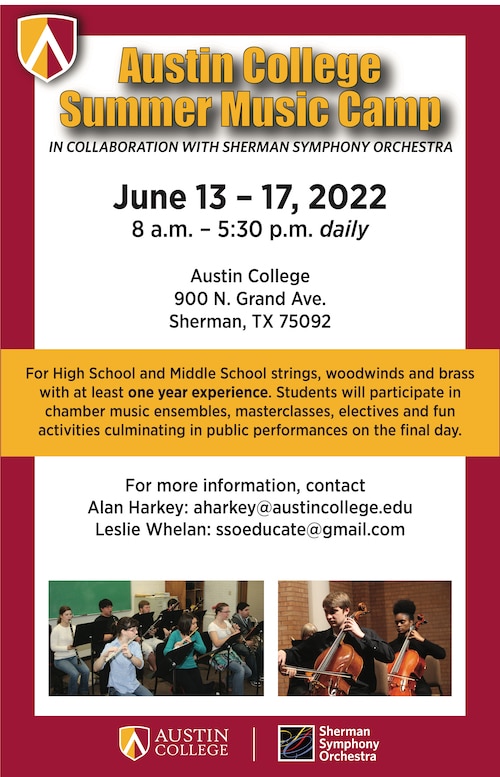 Austin College Summer Music Camp
As a joint endeavor between Austin College and the SSO, the Austin College Summer Music Camp (ACSMC) looks forward to its inaugural year. This day camp for middle and high school wind, brass, and string players will focus on musical development through rehearsals and performances in chamber groups. It will include electives and fun activities for students, and development opportunities for music educators. Faculty will include Sherman Symphony Orchestra musicians and Austin College faculty. The ACSMC will be hosted by Austin College June 13-17, 2022 daily from 8 AM – 5:30. For more information visit https://tinyurl.com/ACSummerMusic or contact Leslie Whelan, Education Director.
---