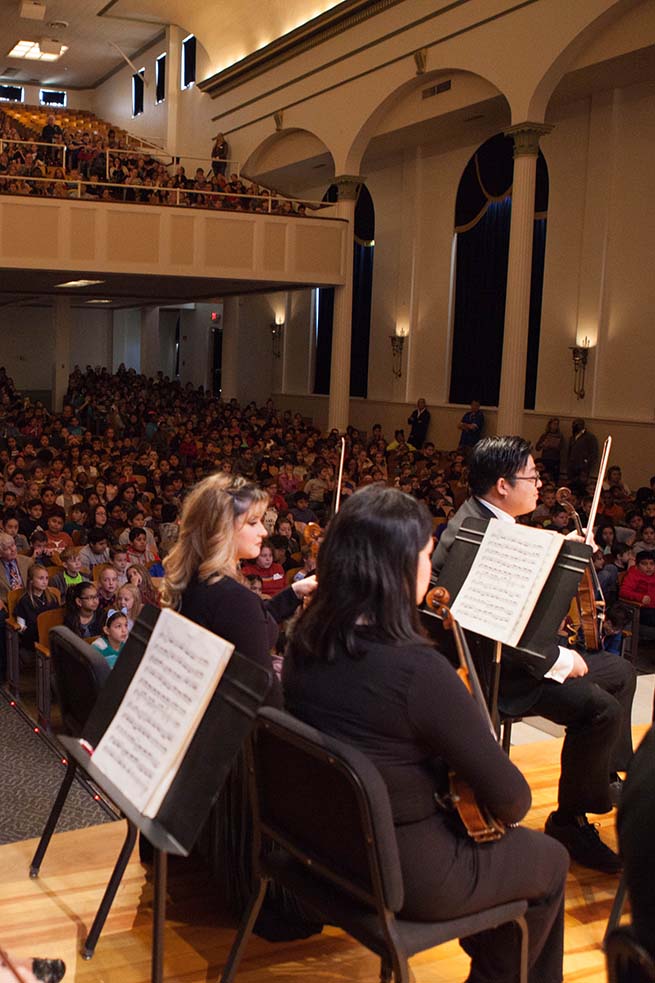 The Children's Educational Concert serves as the centerpiece of the SSO's educational outreach programs. Each year, more than 2,000 5th grade students from the Texoma region attend this concert at Kidd-Key Auditorium free of charge. For many students, this is their first opportunity to see a live symphony orchestra performance. The one-hour concert program is designed accordingly and offers an introduction to concert-going, the orchestra, instrument families, and individual instruments. This informative, high-quality, and energetic concert shares pieces ranging from Beethoven's Symphony No. 5 to the theme from Star Wars in order to convey the musical interpretation of artistic ideas.
Developed in conjunction with local music educators, the goal of this program is to engage developing minds in the art of classical music by providing a high-quality live concert experience.
Our generous local businesses make this program possible through their sponsorships.
We would like to thank Texoma Physicians Group for sponsoring our 2023 Children's Educational Concerts! TPG is a local business that focuses on serving young people and their families, and we greatly appreciate their support.
Upcoming Concerts:
November 2, 2023
10:00 am and 1:00 pm

For Educators:
The Sherman Symphony Orchestra presents two free concerts each year for more than 2,000 fifth-grade students from Texas and Oklahoma. These concerts are designed to familiarize your students with a live concert experience and the instruments of the orchestra through performances of classical repertoire and familiar pieces. In addition to listening to great music and practicing proper concert etiquette, three students will be invited to guest conduct the orchestra! A preliminary curriculum piece and post-concert activity are sent to all participating school groups. If your school would like to attend, please contact Leslie Whelan, Education Director to make a reservation.
What will my students learn?
the families of the instruments in the orchestra
the individual instrument names and sounds
how music can tell a story through sound
how to behave in a classical concert
listening to live music is exciting!
What music will my students hear?
Beethoven
Mendelssohn
Copland
The National Anthem; students will sing with the orchestra
a surprise familiar Christmas tune
several more classical and contemporary pieces
For Sponsors:
Supporting the Children's Educational Concert is akin to supporting instrumental music programs in area schools. Many local students have the opportunity to choose an instrument to study beginning in 6th grade, and offering this concert to 5th-grade students gives them an opportunity to see and hear every instrument individually and in the context of the ensemble.
This is the most fun concert we present each year! Nothing compares with a concert hall packed with children hearing live orchestra music for the first time. If you are interested in helping students continue to have this amazing opportunity, please contact Leslie Whelan, Education Director for more information.